Annapolis National Cemetery



Pictures from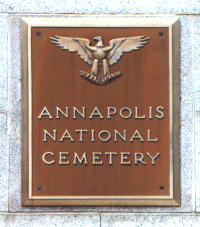 Inside the Walls
JOHN
Son of
John & Elizabeth
SETTLE
Died at parole camp
Annapolis, Md
Mar. 23, 1863

Age 18 yrs 5 m's 9 d's
This marker is the most ornate private tombstone for an enlisted man in the cemetery. Mr. Settle was with the Ohio Volunteer Infantry. The impressed design at the top of the marker contains a pair of crossed muskets, hammers facing downward; flanking the muskets are two American flags, one of which is folded back upon itself. Between the flags is a single five-pointed star, and beneath the muskets is a cluster of laurel leaves. Mr. Settle's unit is engraved beneath the design (I think): Co. A, 41. Reg't O.V.I. Above the design:

My life for my Country

NOTE: The inscription is somewhat illegible; Mr. Settle's unit affiliation is confirmed by the entry of his burial in volume 7, page 61 of the ROLL OF HONOR.
---

Annapolis National Cemetery

previous pictures...
Last updated Sunday, March 28, 1999