Annapolis National Cemetery



Notable graves at Annapolis National Cemetery
Every old cemetery has some notable tombstones, either by and of themselves or by virtue of the person whose grave they mark; Annapolis National Cemetery is no exception.
To begin, there are 211 graves of Unknown soldiers. A good number of these graves occupy the front rows of sections H - M, forming what one might call an "Avenue of the Unknowns".
The front row of Section N is the Memorial Area, where markers are placed in memory of veterans whose remains are not interred here.



Thanks to the 1989 motion picture Glory the men of the Fifty-fourth Massachusetts Infantry became the best-known of the numerous Union regiments comprised mainly of black soldiers. The Union "regular" army had numerous black regiments as well, known alternately as the "Colored Infantry" and the U.S. Colored Troops (U.S.C.T.). Annapolis National Cemetery is the final resting place for the following members of those regiments:
Last Name
First Name
Section
Section
Grave #
Other data
Official
Grave #
Ashby
J.H.
B
173
U.S.C.T.


Bater
Wm.
E
296
U.S.C.T.
2542
Brown
Alex.
M
19
U.S.C.T.
Company D, 1st U.S. Colored Troops
died March 12, 1865
166
Calvert
Chas. H.
E
298
U.S.C.T.
2544
Chambers
Austin
E
297
U.S.C.T.
2543
Clark
Henry
F
166
U.S.C.T.
Musician, 19th Md. Colored Troops
died May 3, 1864
2059
Collins
J.S.
A
160
U.S.C.T.
2517
Edwards
Geo.
B
178
U.S.C.T.
2508
Grayton
Allen
L
162
U.S.C.T.
714
Harris
Henry
K
176
U.S.C.T.
991
Harris
Rich'd
G
185
U.S.C.T.
2532
Horton
John
F
333
SGT CO E 35 REGT U.S. CLD INF


Jackson
George
E
299
PVT CO E 1 US CLD INF SEP 29 1917


Johnson
Jas.
B
175
U.S.C.T.
2504
Kelly
B. A.
L
166
U.S.C.T.
802
McCullough
Milton
E
294
U.S.C.T.
2540
Morris
King
D
166
U.S.C.T.
1310
Queen
Rob't
E
283
CORP'L U.S.C.T.
2523
Robinson
Alex.
J
173
U.S.C.T.
Company A, 1st Michigan Colored Troops
died April 2, 1864
1241
Saddler
Wm.
N
141
U.S.C.T.
116
Sevoy
Joshua
A
157
U.S.C.T.
2513
Sharp
Fred'k
B
177
U.S.C.T.
2507
Smith
Franklin
B
180
PVT CO D 30 US CLD INF SP AM WAR Nov 25 1906


Smith
Thos.
C
75
U.S.C.T.
1011
Turner
Dennis
A
162
U.S.C.T.
2555
Wye
John
B
169
CORP CO K 30 U S CLD INF Dec 18 1901


Young
D.W.
B
168
SGT MAJ U.S.C.T. Jan 9 1901 (new stone)


---
Though established as a Union military cemetery by authority of the Act of July 1862, there are a number of Confederate graves in Annapolis National Military Cemetery. These graves, listed below, purportedly prevented Ashgrove U.S. Cemetery from achieving the designation of Annapolis National Military Cemetery until sometime around 1870 - though I know of no easily-identified evidence to support this position.
Sect.
Grave

Name

State
Rank

Other

C

8

Bennett, Aaron A.
TENN
Corp'l
CO B TENN INF CSA
23rd Tennessee
June 21, 1864

K

30

Bowen, Oliver
VA
Co F 116 VA MIL CSA
Private
May 7 1864

G

24

Frasher, John
Confederate States Army
Private
Co. A, 1st Alabama Cavalry
May 19 1864

F

158

Hennesey, John
LA
Co F 1 LA CAV
Private
died September 6, 1863

F

165

Jackson, G. M.
TENN
CO B 12 TENN VOLS C.S.A.
Private
died November 8, 1863

C

8

Mallow, John
Private
Co B 46th Virginia Infantry
June 1 1864

G

56

Musch, Marinum
Confederate States Army
Private
Co C 1st Louisiana Cavalry
Sept 5 1863

C

8

Slater, William S.
VA
1 LIEUT
1 LIEUT 1 VA LT ATRY CSA
Co D
April 25, 1864
April 26, 1864
While most of the Civil War graves at Annapolis are of enlisted personnel, there are a few officers as well. In addition to Lieutenant Slater, listed above, there are:
Sect.
Grave

Name

State
Rank

Other

G

132

Smith, David D.
ALA
Captain
Co.E, 1st Tennessee
died April 18, 1865
NOTE: Roll of Honor lists Captain Smith as being with the 1st Tennessee, which disagrees with his tombstone

G

133

Clifton, Harrison Y.
PA
1st Lieutenant
Co. D, 99th Pennsylvania
died May 15, 1865

L

166

Varney, S. J.
Lieutenant
ILL
There are a number of private tombstones in the Annapolis National Cemetery, all but one of which date from the Civil War and late nineteenth century. The names in the table are "hot"; move your mouse pointer over a name and a window will open, showing a picture of the tombstone.
Sect.
Grave

Name

Inscription

C

192

May, Helen

Helen M.
Wife of Supt. L. B. May Died Jan 30 1889
Aged 47 years
"There is no death; an angel form walks o'er the earth in
silent tread. He bears our best-loved ones away and then we call them dead"

C

197

Gibbs, Peleg H.

GIBBS
Capt. Peleg H.
CO F 4th R.I. VOL INF
Nov 29 1832 Sept. 30 1923
DAUGHTER
Lillian B.
May 2 1862 Dec 19 1922

E

210

Settle, John
(click)

JOHN
Son of
John & Elizabeth
SETTLE
Died at parole camp
Annapolis, Md
MAR. 23, 1863

Æ 18 yrs 5 m's 9 d's

E

265

Eldridge, William H.

A. A. Surgeon U.S.A. Died 1885
His wife Mary Jay Eldridge 1817 - 1911

F

2

Livinsgtson, Oliver

Our brother
Oliver Livingston
Co K 110th Ohio Regiment
Died Dec. 2 1863 Æ 29 years
"A noble sacrifice for his country"
As the War ensued, many men were discharged due to disability, or their enlistments were up and they opted not to "re-up". In the face of the dwindling numbers of troops, the Department of the Army devised two plans to fortify their numbers:
The first of the two plans was the Veteran Reserve Corps. Originally called the Invalid Corps because its members comprised those injured in battle or otherwise deemed unfit for regular duty, the corps was renamed because its initials - IC - were identical to a government mark indicating unacceptable equipment - "Inspected - Condemned". The VRC troops were used in support positions - as guards, hospital assistants, or other "light duty" positions - in order to free up able-bodied men for front-line duty.
The second plan was an attempt to entice men - whose enlistments were expired and who opted out of another hitch - to re-enlist. Called the Veteran Volunteer Corps, the idea was a dismal failure and the VVC was disbanded before the end of the War.
There are a few men at Annapolis National Cemetery who were members of the afroementioned veteran corps; these are their names whom I have cataloged thus far:
| Sect. | Grave | Name | Corps |
| --- | --- | --- | --- |
| G | 76 | Fink, John | V.R.C. |
| F | 110 | Moore, Lewis G. | V.R.C. |
| C | 51 | White, Alexander | U.S.V.V. |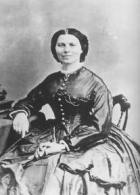 DID YOU KNOW that Clara (Clarissa Harlowe) Barton (1821 - 1912), founder of the American Red Cross, established her wartime headquarters at Camp Parole ? At the Camp, located approximately two miles west of Annapolis National Cemetery at what is now known (naturally) as the Parole section of Annapolis, Miss Barton completed her wartime task of caring for wounded Union soldiers.
When the War ended, Miss Barton - with the endorsement of President Lincoln - established the Office of Correspondence with Friends of the Missing Men of the United States Army in Annapolis. Her task was a great one; while her "Soldier Office", as it came to be known, located some 22,000 missing soldiers, Miss Barton's most notable accomplishment in this capacity was the locating and marking of more than 13,000 graves of Union soldiers at Andersonville Prison in Georgia.
While it is highly probable that the men at Parole Camp were tended to by Miss Barton, it is an absolute certainty that the sick and wounded at one or the other - or at both - of the two General Hospitals - College Green (St. John's College) and the U.S. Naval Academy were tended by the three women whose names appear below. At a time when it was almost unheard of for women to be exposed to the horrors of war, these women literally gave their lives to the service of their country as surely as did the soldiers whom they attended:
Move your mouse pointer over a name to view a picture of the tombstone
Question:
How many foreign nationals died in the American Civil War?
Answer: At least one - and he's buried in Annapolis National Cemetery!&nbsp Read the story of his funeral here.
I am looking for coverage of the incident itself; when (if?) I find it I will place it here.

Annapolis National Cemetery

Last updated Friday, October 28, 2016