Annapolis National Cemetery



Interments by State
As history has shown, the Civil War tore families apart; the horrors of this war over all others is most often told in the pitting of one family member against another: brother against brother, sometimes father against son.
But there is another, less talked-about, tragic aspect to the Civil War that, sadly, connects it to every other war ever fought: that of dividing families by calling men and boys to their duties - and sometimes to their deaths.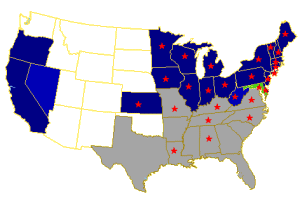 Some men fought to protect their own land and never saw the road to battle extend beyond their own fencelines, while others travelled with their regiments - sometimes many hundreds of miles - to serve their countries.
This map shows the United States of America and the Confedrate States of America in 1863. The red stars indicate states from which men left but never returned, instead coming to their final rest in Annapolis National Cemetery.
Please click on a state name

Alabama
345
1,466

Kansas
2,630


Minnesota
2,584


Pennsylvania
33,183


Connecticut
5,354


Kentucky
10,774
**

Missouri
13,885
**

Rhode Island
1,321


Delaware
882
**

Louisiana
945
6,545

New Hampshire
4,882


Tennessee
6,777
6,414

District of Columbia
290
&nbsp

Maine
9,393
&nbsp

New Jersey
5,754
&nbsp

Vermont
5,224
&nbsp

Illinois
34,834
&nbsp

Maryland
2,982
**

New York
46,534
&nbsp

Virginia
42
14,794

Indiana
26,672
&nbsp

Massachusetts
13,942
&nbsp

North Carolina
360
40,275

West Virginia
4,017
&nbsp

Iowa
13,001
&nbsp

Michigan
14,753
&nbsp

Ohio
35,475
&nbsp

Wisconsin
12,301
&nbsp
Numbers in blue indicate Union casualties for the entire War

Numbers in gray indicate Confederate casualties for the entire War
Note: '**' indicates states whose Confederate dead account for the 4,834 Confederate casualties attributed to the 'border states'
Casualty figures obtained from Dyer's Compendium

Annapolis National Cemetery
Last updated Wednesday, October 36, 2016