Annapolis National Cemetery



Section N - Annapolis National Cemetery
156 graves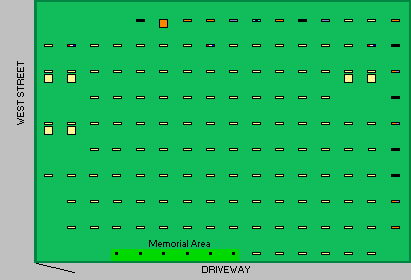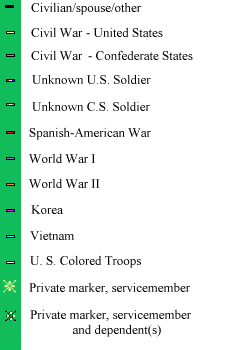 The legend, left, utilizes a color code to indicate in which conflict(s) the deceased participated. Solid colored bands indicate the deceased died at a point following the conflict; colored bands bisected by a black bar indicate the death occurred during the conflict.
NOTE THAT ALL CIVIL WAR / WAR BETWEEN THE STATES GRAVES ARE WAR CASUALTIES UNLESS OTHERWISE NOTED IN THE ALPHABETICAL LISTING OF INTERMENTS.
The Memorial Area, located adjacent to the driveway, is best explained by the bronze plaque located there:
The markers in this memorial area honor veterans whose remains have not been recovered or identified, were buried at sea, donated to science, or cremated and the ashes scattered.

Annapolis National Cemetery
Last updated Friday, February 11, 2000