Annapolis National Cemetery



Section I - Annapolis National Cemetery
144 graves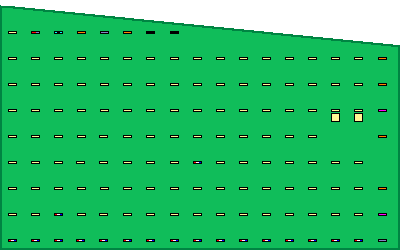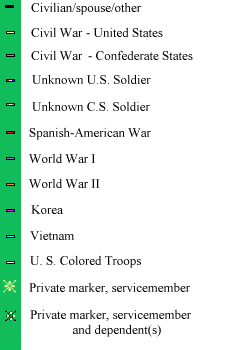 The legend, left, utilizes a color code to indicate in which conflict(s) the deceased participated. Solid colored bands indicate the deceased died at a point following the conflict; colored bands bisected by a black bar indicate the death occurred during the conflict.
NOTE THAT ALL CIVIL WAR / WAR BETWEEN THE STATES GRAVES ARE WAR CASUALTIES UNLESS OTHERWISE NOTED IN THE ALPHABETICAL LISTING OF INTERMENTS.
Point of interest: The ninth row contains graves of combatants of each of the wars of the United States since the War of 1812 except for the Korean War and Desert Storm: the Civil War, the Spanish-American War, World War I, World War II, and Vietnam.

Annapolis National Cemetery
Last updated Saturday, January 16, 1999