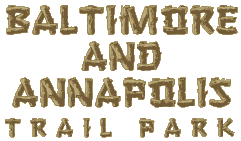 Because it is a park the Baltimore and Annaoplis Trail has rules and regulations. These are not meant to keep visitors from having fun - they are meant to ensure everyone has a good time on the Trail.
The rules and regulations below are set forth by the Anne Arundel County Department of Recreation and Parks; however, there is one rule that isn't on the list but should be:
Treat other trail guests the way you want to be treated.

Park hours are from sunrise to sunset
NO

Alcoholic beverages
Dumping
Littering
Firearms
Fireworks
Motorized vehicles of any type
Auto repair (this includes the trail parking lots)
Amplified music
Fires of any type

Destruction of Park property is prohibited
Pets must be on a leash and under control at all times
Because the Baltimore and Annapolis Trail is somewhat isolated, the following suggestions are made for your safety:
Never go on the trail after dark If you are found on the trail after dark, you better hope it's by a park Ranger or a police officer - at least they'll only give you a ticket...
Tell someone where you are going and when you expect to return - much like a float plan for a boater
Use the "buddy system" - exercise with a friend
For joggers and hikers, it is a good idea to carry a small air horn or other loud device to attract attention in danegrous situations
For additional information,
please contact:

Baltimore and Annapolis Trail Park
P.O. box 1007
Severna Park, MD 21146

410-222-6244
Last updated Monday, July 17, 2000