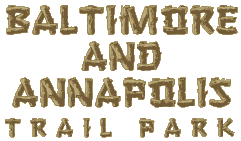 THE BALTIMORE AND ANNAPOLIS TRAIL PARK extends approximately 13 miles from Route 50 in Annapolis to Dorsey road in Glen Burnie. At Dorsey Road, the trail connects with the BWI Airport hiker/biker trail, extending the distance which one may bicycle to 20 miles - one way!
In these pages I tell you about, and show you some of the sights along, the trail. I hope you enjoy your visit and are inspired to visit the trail itself!

Getting to the trail is easy - any spot along southbound Ritchie Highway is a potential parking spot. NOTE: there are a lot of small stores along Ritchie Highway where one might be tempted to park. Please don't! These stores need those parking spots for their customers. There are many shopping malls and plazas along the highway where one may park unobtusively; there are also two lots dedicated to the trail and a park-and-ride lot on Jones Station Road.

Annapolis parking lot


Sverna Park parking lot

The Annapolis parking lot is located on southbound Maryland route 2 (Ritchie Highway). If approaching from the north on route 2, or from either direction on Route 50, follow the exits for Annapolis/Naval Academy; as soon as you are on route 2 south, the entrance to the parking lot is on your right, just before the right-hand turn for Boulter's Way. If you are approaching from Annapolis, cross Naval Academy Bridge across the Severn River and proceed north until you see a crosswalk that goes all the way across the highway; take the next left and double back to the parking lot.

The Severna Park parking lot, located at the ranger station, is easy to get to: from southbound route 2, turn right onto West Earliegh Heights Road (the Earleigh Heights fire station is on the left at the light). Going north on route 2, turn left at the Earleigh Heights fire station light. From I-97, follow Route 100 east to Route 2 south, then follow the above directions.
For additional information,
please contact:

Baltimore and Annapolis Trail Park
P.O. box 1007
Severna Park, MD 21146

410-222-6244
Last updated Monday, July 10, 2000