The

North

Shore

Lines
The year was 1885
and the Annapolis and Elk Ridge Railroad was in the throes of financial ruin, awaiting sale at public auction to satisy the recievers and stockholders. In 1884 a group of businessmen, seeing the railraod foundering but knowing that the cause was its relationship with the Baltimore and Ohio, realized that rail was a profitable venture and set forth to construct a new road - this one on the opposite (north) shore of the Severn River form the A&E and running from Annapolis directly into Baltimore on its own right-of-way.
The railroad started at a station and yard complex at Bladen Street

in Annapolis and ran basically in a nortwesterly direction through acres of farmland, with the stations taking their names from the farms through which they passed: Winchester, Jones, Robinsoon, Pumphrey, and Linthicum, among others.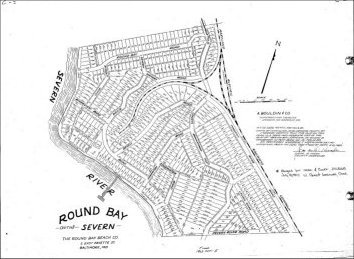 The railroad also created a rivrside resort in 1911; the resort was called Round Bay after the small cove on which it was located.
The Baltimore and Annapolis Railroad survived as a passenegr carrier until February 1950, when the passenger trade was still carried by the railroad, but in buses painted in the railroad's livery. The railroad hauled freight - coal to the steam plant at the United States Naval Academy and to the Henry B. Meyers coal dock, lumber to the Meredeth and Roane lumber yard, and newsprint for the Evening Capital - until l972, when Hurricane Agnes irreperably (from a fiscal point of view) damaged the long trestle across the Severn River.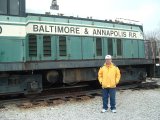 The road's little GE 70-tonner, number 50 (General Elecrtric # 30437, class B-B-140/140-4GE748, built January 1950) continued to haul freight between an interchange with Chessie in Baltimore Highlands and businesses in Linthicum until approximately 1980 when it finally succombed to progress.
Around 1982 Ken Pippin bought the tracks and resurrected the railroad, retiring #50 to the Baltimore and Ohio Museum and purchasing a B&A-specifically-painted SW9, numbered 87. On May 15, 1984, a celebration called Ferndale Day was held, and after 34 years - even if only for a single day - the Baltimore and Annapolis Railroad once more hauled paying passengers between Ferndale and Baltimore Highlands. (See some pictures of Ferndale Day and other B&A pictures here)
| | | |
| --- | --- | --- |
| | Which route? | |

Back to Mike's Rialroad Page
Created Wednesday, January 17, 2001
Updated Monday, July 25, 2011