Built in 1856
, Camden Station was the Baltimore and Ohio Railroad's main passenger terminal in Baltimore; it is located at the southern end of the Howard Street Tunnel and now contains the Sports Legends Museum. Camden's sister station, Mount Royal, is located at the northern end of the tunnel and now houses the Maryland Institute of Art.
In 1982 I took frequent trips from my home in Annapolis to South Baltimore to watch trains and take pictures. One of those outings was spent in Camden Yard; I had no idea at the time that I was watching the closing act of a play that had been on the same stage for 126 years.
Here, then, are some photos I took that day; they show a run-down Camden Station - a grimy, dimly-lit shell of its former self. I couldn't help but recall the words to "City of New Orleans" as I took photo after photo of a lonely building that almost seemed to be aware of the coming end of the commuter trains which departed from its platforms, and of the day when its own doors would be closed and locked for the last time.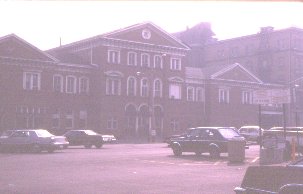 The front of Camden Station in 1982; the facade belies the condition of the inside of the building.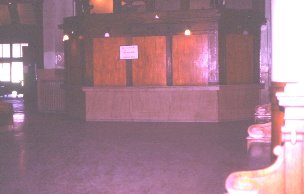 A booth of unkown purpose. Note the sign: "No Loitering: For railroad patrons only". I was the only one in the building the entire time I was there; roughly a half an hour - at rush hour.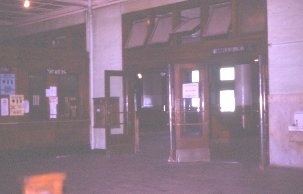 The ticket window. Note the sign above the door to the right: Western Union.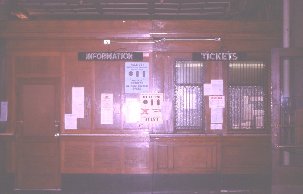 Another view of the ticket window, showing the information window, which has been turned into a wooden bulletin board. Note the wood ceiling.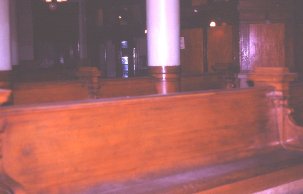 The massive benches in the waiting room, with the station's supporting columns built into the woodwork.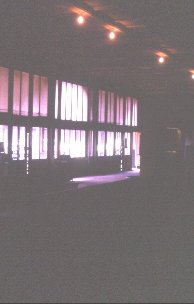 Looking toward the platforms from inside the station - these windows looked out upon the sole surviving platform and the last two tracks at Camden Station.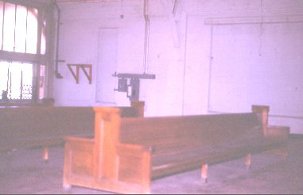 The benches in the boarding area - a little less elaborate than the other benches. Pehaps this was the coach class waiting room? The windows needed cleaning badly - but it would have been pointless; there were no tracks to look out upon (see 3rd picture in the next column).